We're Celebrating our 100,000th Customer!
Frozu! Reaches their 2nd significant milestone!
In addition to becoming Atlantic Canada's largest Frozen Yogurt chain this Summer, Frozu! has just served their 100,000th customer.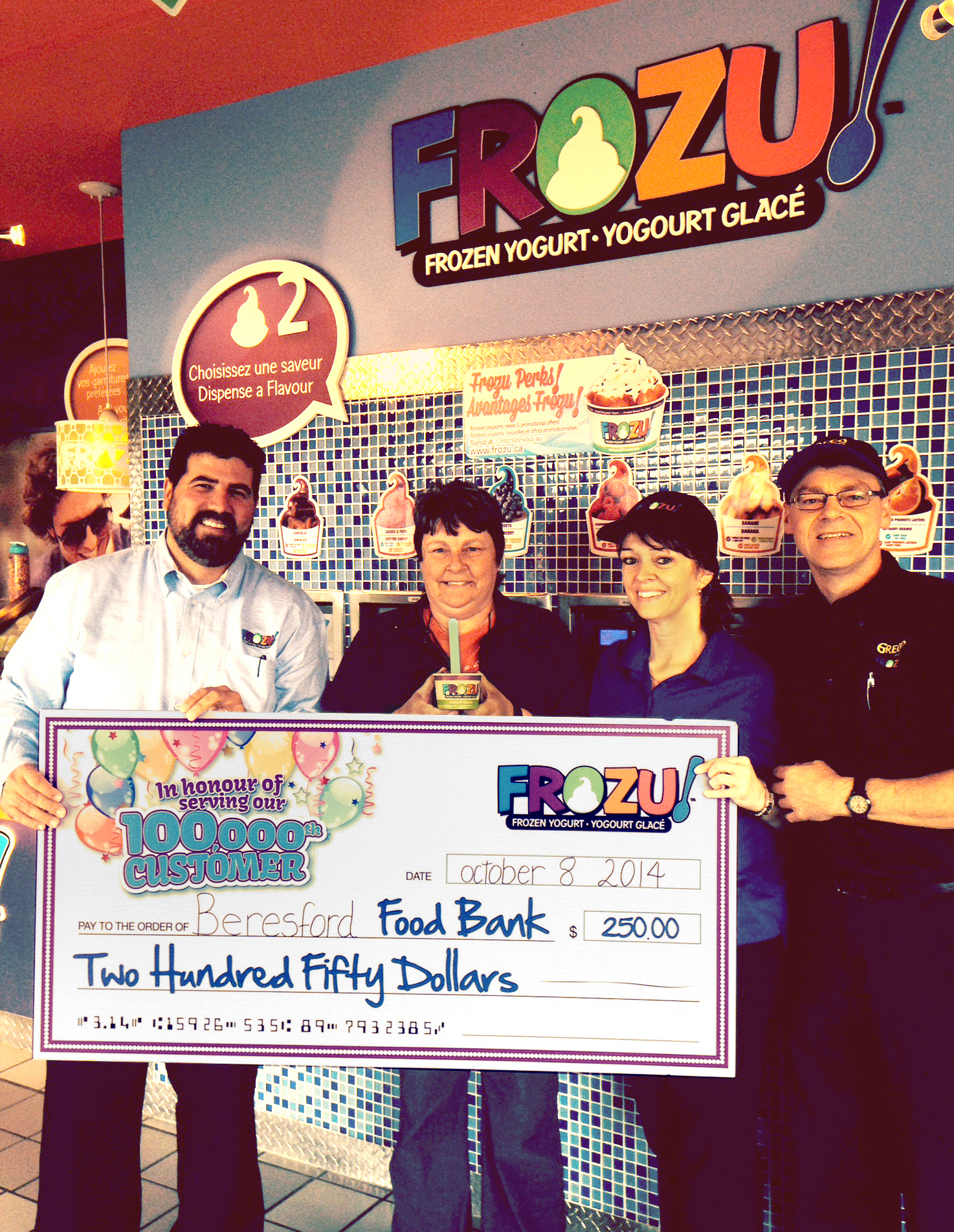 Don Moore, VP Operations, Grinner's Food Systems Limited said "we are ahead of schedule to be serving our 100,000th customer but delighted to be reaching this milestone so early in the development of our newest brand".
"We have had extremely positive feedback from customers who are delighted to be enjoying the healthy options of Fat Free and Low Fat yogurts" says Michael Whittaker President, Grinner's Food Systems Limited. "The popularity of our Self-Serve concept has contributed to the unexpected speed of which we reached this milestone."
Suzanne Doucet, was taken by surprise this afternoon when she went to pay for her custom Frozu! creation of low fat blueberry yogurt, topped with raspberries, walnuts and strawberries and found out she was the 100,000th customer. For being the lucky 100,000th customer Suzanne received Free Frozu! for a year. To further mark this significant milestone Grinner's Food Systems Limited made a donation to the local Food Bank on her behalf. "Financial donations are important to local food banks, when supplies run low it allows the food bank to purchase items they need to fulfill their commitments. With the Thanksgiving holiday so close we felt this was the perfect choice for a local donation" says Moore.
Now with 14 locations though out Atlantic Canada, Whittaker said he and business partner Bill Hay are on track to have 35 Frozu! units operating by the end of 2015.
"We have excellent distribution channels and investors all over Atlantic Canada," says Mike Whittaker. The concept is flexible and could range from a 200-square-foot "clip-on" attached to any complementary business to a 2,500-square-foot standalone operation.
Grinner's Food Systems limited is one of the largest franchising systems in Atlantic Canada with their head office in Truro, Nova Scotia. There are now 40 Capt. Submarine locations in Atlantic Canada with plans to open their 100th Greco Pizza location later this year.
Website: www.frozu.ca
Facebook: https://www.facebook.com/frozu.ca/info
Twitter: https://twitter.com/FROZUCA
Shown in the picture left to right Don Moore, VP Operations, Suzanne Doucet, Diane Fournier and Leo LeBlanc owners of the Beresford Greco Pizza/Frozu!
---