FROZU! Concept Right Fit for Atlantic Canada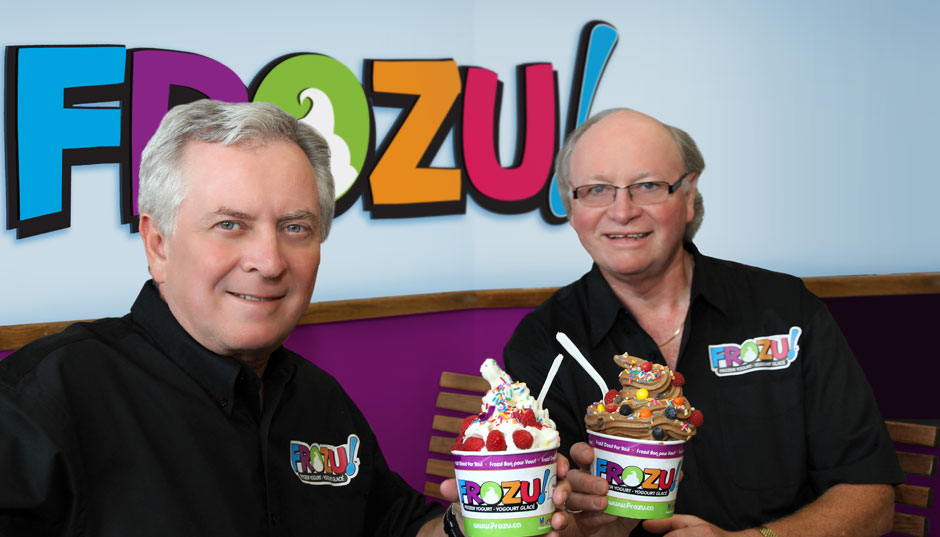 Atlantic franchisor says they are positioned for growth
The FROZU! system has over 90 rotating yogurt flavors, over 55 rotating topping options including raspberries, mango, pineapple and strawberries.
The white hot frozen yogurt phenomenon has a new player and a new name. FROZU! is the latest entry into the growing trend of self-serve weigh and pay frozen yogurt concepts. It's the brainchild of the Nova Scotia based Grinner's Food Systems. Grinner's franchise the popular Greco Pizza and Capt. Submarine brands – two iconic Atlantic based restaurant systems.
Partners Bill Hay and Michael Whittaker feel they are perfectly positioned to take a leadership role in the Atlantic market share in the frozen yogurt business. "We have excellent distribution channels and investors all over Atlantic Canada," says Michael Whittaker, President. "We currently sell over forty million dollars in restaurant meals annually in Atlantic Canada and that gives us some very special advantages over startups in the region. We know the Atlantic Canadian market and we can leverage our food knowledge base and franchise infrastructure to open a lot of units quite quickly. We hope to have 20 units operating by the end of 2014."
Whittaker says the FROZU! system will have 90 rotating yogurt flavors, over 55 rotating topping options including raspberries, mango, pineapple and strawberries.
The Grinner's FROZU! model is different from the typical franchise model in that the operators will not have to pay a royalty based on their sales, with the exception of their own current co-branded franchises. The FROZU! concept will be based on a straight per cup contribution. "The beauty of this system is that most operators won't be saddled with the job of reporting sales every week. That takes a lot of work and paperwork out of the schedule leaving the operator more time for local marketing and running their store, "says Whittaker. Our system is also very flexible in its footprint. We can put FROZU!'s in as little as 200 sq. ft. as an add-on to an existing business or a 2500 sq. ft. standalone concept." Grinner's intends to combine their FROZU! concept with their Capt. Submarine and Greco Pizza brands to maximize overhead efficiencies.
"The FROZU! concept has delicious flavor varieties and fresh fruit and toppings that are getting rave reviews from our market testing," says partner Bill Hay. "We have had our product development team working on this project for quite a while. Everyone is excited about the prototype that will be opening in Truro. Frozen yogurt has excellent health properties including the fact that its low fat, has probiotics and low cholesterol attributes. It's a great product and on the right trend for healthier eating. We have years of experience and we see a great opportunity throughout Atlantic Canada for our brand."
The first FROZU! is opening in a Capt. Submarine in Truro in mid-August. Grinner's is one of the region's largest and most successful franchisors and have been franchising since 1977.
---